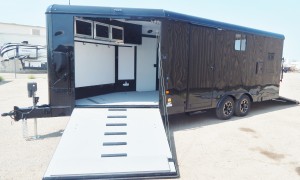 Enclosed All-Sport trailers from Double R Trailers are built like no other. Our all-sport trailers are built with straight axles. The additional ground clearance makes this trailer optimal for off-road and job site applications. We build gooseneck and bumper-pull models. Our all-sport trailers are built with an 8" I-beam tongue and frame, tubular steel uprights and roof bows on 16" centers, 3/16" thick angle iron floor crossmembers on 16" centers and smooth aluminum exterior skins. We offer any available color combination.
Product Specs
8′ 6″ wide
6′ 4″ inside height
16'/up length
Steel structure
Smooth .030 aluminum exterior skin (no rivets or screws)
Beavertail, reverse beavertail or flat floor
Drive on/off interior fenderwells
8″ I-beam tongue and frame
1″ x 1″ square tube uprights on 16" centers
1″ x 1″ square tube roof bows on 16" centers
3″ x 2″ x 3/16″ angle iron cross members on 16" centers
3″ x 2″ x 1/8″ tube rear frame
Full rear ramp door 2″ x 2″ tube frame with dual cable assist, ramp transition flap
¾" plywood floor
¼" plywood walls
Vapor barrier under floor
36″ RV side door with deadbolt
Lockable and insulated fuel door with deadbolt
Recessed step well, grab handle
14″ roof vent
2-interior lights
Flat nose, 24″ wedge nose, 5′ V-nose or gooseneck
Bright annealed front corners or nose
24″ diamond plate nose, along tongue, diamond plate fenderettes
7000# drop leg jack
2 5/16″ adjustable height coupler
4-wheel electric brakes
7-way RV style plug
4-D-rings 6000 lbs rated, recessed
Fully siliconed inside and out
7000# GVWR: 2-3500# spring axles, ST205/75-15″ 5-lug radial, 6 ply, nitrogen filled tires
9990# GVWR: 2-6000# spring axles, ST225/75-15″ 6-lug radial, 8 ply, nitrogen filled tires
14,000# GVWR: 2-7000# spring axles, ST235/80-16″ 8-lug radial, 10 ply, nitrogen filled tires
Grey steel mod wheels with chrome center caps
Break-away kit w/in-line battery charger
Spare tire carrier
All L.E.D. exterior marker and tail lights
2-part epoxy self etching primer
Acrylic enamel paint with urethane hardener
5 year structure warranty
Click Here to View Our Trailer Options List
Shown with Options
*Custom options available upon request. All information contained on this page is subject to change without notice. Some restrictions on models and options apply.