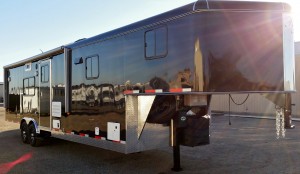 Toy Hauler trailers from Double R Trailers are built like no other. All of our toy haulers are custom built. Our design team will help you build the toy hauler of your dreams that fits within your budget. We build our toy haulers in gooseneck and bumper-pull models. Our Toy Haulers are built with a continuous 8" I-beam frame, tubular steel uprights and roof bows on 16" centers and smooth aluminum exterior skin. They are 8'6" wide with the option of extra height. We offer any color combination.
Product Specs
8′ 6″ wide
7'/up inside height
16'/up length
Steel structure
Smooth .030 aluminum exterior skin (no rivets or screws)
Beavertail, reverse beavertail or flat floor
8″ I-beam continuous tongue and frame
1″ x 1″ square tube uprights on 16" centers
1″ x 1″ square tube roof bows on 16" centers
3″ x 2″ x 3/16″ angle iron cross members on 16" centers
3″ x 2″ x 1/8″ tube rear frame
Full rear ramp door 2″ x 2″ tube frame with dual cable assist, ramp transition flap
¾" plywood floor
¼" plywood walls
Vapor barrier under floor
36″ RV side door with deadbolt
Recessed step well, grab handle
14″ roof vent
24″ diamond plate nose, along tongue, diamond plate fenderettes
Flat nose, 24″ wedge nose, 5′ V-nose or gooseneck
Bright annealed front corners or nose
2-interior lights
7000# drop leg jack
2 5/16″ adjustable height coupler
4-wheel electric brakes
7-way RV style plug
4-D-rings 6000 lbs rated, recessed
Fully siliconed inside and out
7000# GVWR: 2-3500# spring axles, ST205/75-15″ 5-lug radial, 6 ply, nitrogen filled tires
9990# GVWR: 2-6000# spring axles, ST225/75-15″ 6-lug radial, 8 ply, nitrogen filled tires
14,000# GVWR: 2-7000# spring axles, ST235/80-16″ 8-lug radial, 10 ply, nitrogen filled tires
Grey steel mod wheels with chrome center caps
Break-away kit w/in-line battery charger
Spare tire carrier
All L.E.D. exterior marker and tail lights
2-part epoxy self etching primer
Acrylic enamel paint with urethane hardener
5 year structure warranty
Click Here to View Our Trailer Options List
Shown with Options
*Custom options available upon request. All information contained on this page is subject to change without notice. Some restrictions on models and options apply.