Double R Trailers is where dreams become reality!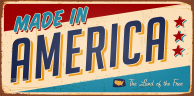 We build enclosed custom trailers from the ground up. We take great pride in building quality trailers from high quality materials, by true craftsman at a great price. Our custom made trailers offer you the best value for your hard earned money, not a cookie cutter trailer built on an assembly line.
Our specialty is building custom units to customer specifications. Our base models are our basis for any type of custom enclosed trailer. We work closely with customers to provide them with the best trailer that meets their specific needs.
Double R Trailers invites you to customize a trailer with us. Let our expert design team help you build the trailer of your dreams while staying within your budget. Customers will find a list of base models and options to build the ultimate trailer with the best value. Each trailer quote consists of a base trailer price plus all options listed separately.
Our mission is to build high quality units for specific customer needs at the best price possible. We employ true Craftsman and use the highest quality materials. We pride ourselves in exceptional customer service and providing expert knowledge when designing the trailer of your dreams.
What customers say about Double R Trailers…
---
I thought it would be a challenge, and maybe impossible, to find an enclosed trailer for my Chevy 5700 show truck. You and your team made it possible, and the finished trailer is awesome.  The truck fits into the trailer perfectly and it handles great on the road.  The communication throughout the design and build process was good, and that was critical given the trailers unique design requirements.
Your experience and advice on the height, width, and other design features made the finished trailer a perfect custom fit for the truck.  And is also very capable hauling any of my other cars and trucks.  When I was looking for a trailer I saw your website and remember it said, "Our mission is to build high quality units for specific customer needs at the best price possible".   I believe you and your team of designers and craftsmen did as promised and more.  I received a high quality trailer,  built for my exact needs, at a very reasonable price.
Thank you again,  it was a pleasure doing business with the team at Double R Trailers!
-Randy
Have A Question?
We Have Answers
Building A Custom Trailer Is Easy With Double R!